Marrakech is not the capital, largest, or oldest city in Morocco. Nevertheless, it is certainly the country's most intriguing one. Although disputed by some, there is a consensus among those who travel to Marrakech that it is Morocco's cultural capital.
Its famous sights, which include historic medinas and palaces to busy bazaars and alleyways, have given the city this designation.
It's also a honeymoon destination and a source of inspiration for creative and artistic individuals. Here, we take a look at a few interesting facts that make excursions to Marrakech so appealing.
1. Marrakech's Name Has Two Origins
Most historians note that the name Marrakech is rooted in the Berber phrase, murr akush, which means "the land of God". However, there are other theories surrounding the name's origin.
A second theory that suggests "Marrakech" comes from the Arabic words, murra kish, which mean to "pass by quickly". Apparently, this phrase was created to warn those who travelled to Morocco to watch out for thieves and wild animals in the city. For tourism purposes, naming the city as a reference to "the land of God" would certainly be more welcoming!
2. Marrakech Sits Near the Height of North Africa
Marrakech's prime location is just 50 miles north of North Africa's highest peak, named Toubkal (pictured above), in the Atlas Mountains. The city is referred to as a prime location because of its relative proximity to other key cities. Ouarzazate, a city considered to be the gateway to the Sahara Desert, is 122 miles northwest of Marrakech. And 110 miles west of Marrakech is the port city of Essaouira.
3. Marrakech is Hollywood's Second Home
Throughout the years, Marrakech has served as a setting for big-budget Hollywood productions. The masterminds behind many golden era films would travel to Marrakech due to its scenery. One such film was The Man Who Knew Too Much (1956), which was filmed at the Mamounia Hotel. More recent movies were also shot in Marrakech. The creators and cast of Sex and the City 2 (2010) sojourned to the city and filmed the movie at the Taj Palace. Also, Mission: Impossible – Rogue Nation (2015) had its filming take place in Marrakech at the Marrakech Stadium.
4. Marrakech is a Trilingual City
There are three main languages spoken in Marrakech (and all of Morocco) – Arabic, French, and Amazigh. During the early 20th century, the French occupied Morocco and for that reason, many Moroccan locals still converse in French today. Amazigh (the Berber languages) is a group of the lesser-known set of languages spoken by the Berber people of Morocco. There are many subdivisions of these languages, which vary linguistically among different Berber tribes.
5. Marrakech is Home to Famous Traditional Arabic Structures
Marrakech is home to a wide range of iconic structures, many of which were constructed during the last millennium. They include the likes of El Badi Palace, built in the 16th century by Saadian sultan Ahmed al-Mansour. The sultan constructed the palace with money received from the Portuguese after the Battle of the Three Kings.
There's also the Ben Youssef Madrasa (pictured above), a 14th-century university that was rebuilt in the 16th century. It is an impressive display of Islamic architecture that spans 17,976 square feet and contains 132 dorm rooms. Since 1982, it has served as a museum. This is located just 2 minutes on foot from Riad Farantchi.
6. Yves Saint Laurent Rescued a Piece of Marrakech
Algerian-born French designer Yves St. Laurent literally saved a piece of Marrakech heritage. Along with his partner, Pierre Berge, Yves bought the Jardin Majorelle when they discovered it was being converted to a hotel. Not only did they buy the property, but they also chose to live in Jardin Majorelle's Villa Oasis. To this day, a Roman pillar memorial stands in the garden to pay homage to the late Saint Laurent who passed away in 2008 from brain cancer.
7. Winston Churchill Recommended Marrakech to His Friends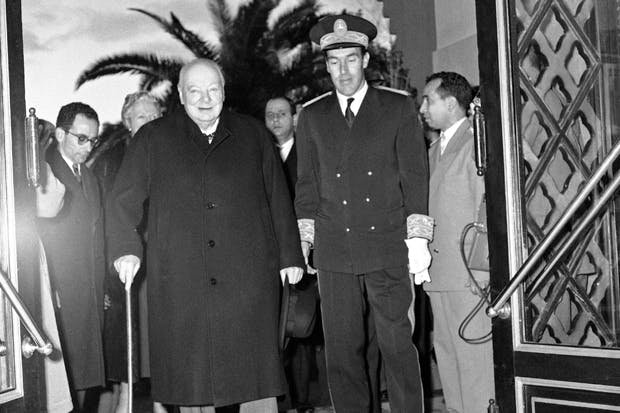 Visitors of Marrakech have long recommended the city to friends and family members, and this is true even among former U.S. presidents. During the height of WWII in 1943, Winston Churchill begged Franklin D. Roosevelt to travel to Marrakech after the Casablanca Conference.
Churchill said to Roosevelt: "You cannot come all the way to North Africa without seeing Marrakech". That admonition was convincing enough for Roosevelt, as he agreed to a driving excursion from Casablanca to Marrakech with Churchill.
Travel to Marrakech to See It First Hand
Marrakech travel adventures offer the best of many worlds to its visitors. It is situated at an intersection of traditionalism and modernity, thus lending itself to a host of unforgettable sights.
We offer a variety of excursions to see the sights mentioned above. They include tours of the majestic Atlas Mountains, the beautiful Jardin Majorelle, and day trips to nearby cities like Essaouira.
For those of you want to see architectural, cultural and historical wonders, a Marrakech travel adventure will satisfy your soul!