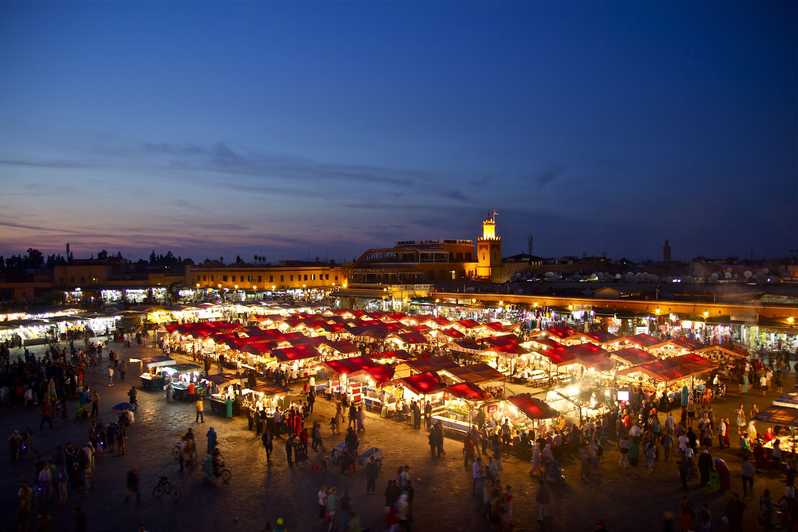 The Best of Both Worlds: How to Experience Old & New Marrakech
When the city of Marrakech comes up in discussion, many images may come to mind. Some may immediately visualize the city's alleyways and mosques, while others may think of museums, marketplaces and even movie locations.
The reality is that Marrakech is a hub of all the aforementioned sights and more with old and modern quarters. In this post, we'll take a quick look at both these areas and our destination picks that travellers should visit.
The Old City of Marrakech
The Old City of Marrakech offers visitors a rich experience by virtue of an assortment of cultural, historical and touristic attractions. This section of the city is fortified and packed with vendors and stalls. The old city (and Medina) was turned into a UNESCO World Heritage Site in 1985. Many of the buildings in the Old City have since been renovated.
A stroll through the old city takes place within city walls and narrow alleyways with stellar views of landmarks dating back to the 12th century. The Old City is ideal for those who want a glimpse into Marrakech's past or want to learn more about the Five Pillars of Islam. It's also the ideal locale for those looking to lose themselves in city streets or shop for exotic goods in the city.
Things to Do in Marrakech & Places to Visit in the Old City
Koutoubia Mosque –

The largest mosque in Marrakech

, Morocco, Koutoubia is also known by several other names, such as Jami 'al-Kutubiyah, the Koutoubia mosque, the Kutubiya mosque, the Kutubiyyin mosque and the booksellers' mosque. It is fitted with decorative arches, a large square with gardens and its 773-metre (253-foot) minaret includes an arrow and orbs. Koutoubia was completed during the reign of the Berber Almohad Caliph Yaqub al-Mansour (1184-1199). It's ideal for those with an interest in the fundamentals of Islamic tradition.
Bab Agnaou –

Bab Agnaou, which was

one of the original gates

in Marrakech's protective walls, is located on the city's southern side. It was originally constructed during the 12th century when Morocco was being ruled by the Almohad Dynasty. Bab Agnaou's façade, which surrounds the giant horseshoe-shaped archway, was built with stone and brick. It is also decorated with inscriptions from the Quran and various floral decorations. For tourists who are impressed by historical architecture, Bab Agnaou will serve as the perfect backdrop for epic Instagram photos.
Jamaa Elfna Square –

This marketplace right at the heart of Marrakesh

dates back to the founding of Marrakesh by the Almoravids in 1062. The square attracts locals of all social and ethnic backgrounds as well as tourists from around the world. Also, it is a bustling centre of activity for entertainers and performers, as well as vendors of local and foreign goods.
The Modern City of Marrakech
The "other side" of Marrakech is also just as vibrant as the old city but aesthetically quite different. This side of Marrakech is centred around the contemporary scene that began in the early 20th century, which was essentially a French area.
It is a thriving centre for art, design, fashion, and entrepreneurship. Travellers will encounter familiar retail stores here such as Zara and H&M, along with popular fast-food chains like Starbucks and McDonalds. For visitors who want to feel like they're in New York City or Paris in Africa, this portion of the city provides that vibe.
Things to Do in Marrakech & Places to Visit in the New City
33 Rue Majorelle –

This

store curates products

from the best of up-and-coming brands based in Morocco and abroad. Visitors can find rare notebooks, stylish hats for men and women, contemporary jewellery, chic lamps, aromatic natural soaps, and more. It's a one-stop-shop for travellers looking for the perfect gift.
Museum of African Contemporary Art Al Maaden (Macaal) –

The Museum of African Contemporary Art Al Maaden (MACAAL) in Marrakech is an independent, not-for-profit

contemporary art museum

. The first museum of its kind, MACAAL promotes African art showcasing vibrant works from establishing and emerging artists. The museum also displays art from Morocco and neighbouring countries across a wide range of media. MACAAL is a must-see attraction for art-lovers and aspiring artists.
Terre d'eveil –

At Terre d'eveil, travellers can find an assortment of hand-crafted,

bespoke cosmetics

. All the ingredients are organic and custom-made to suit one's unique skin profile. The store also sells ready-made products such as ghassoul clay and argan oil. For travellers who want chemical-free wellness products, Terre d'eveil belongs on their itinerary.
Marrakech: A Twofold Wonder
For travellers who are looking for things to do in Marrakech, they can rest assured that there is no shortage of attractions to see. History and culture buffs alike will lose themselves in the wonders of the old city, while contemporary and artsy-folk will feel energized walking through its modern areas. Both sides of the city will provide plenty of photo opportunities and memories that will stick with visitors for a lifetime!
We advise travellers to consult a guide on their excursions to get the most out of these attractions. Here at Le Farnatchi, we can make arrangements for visitors to see all the great sites of this wonderful city as well as help with booking drivers, guides and much more.
← Back to all posts